Baptism and Birth Records in the UK
Case Study: H.G. Wells (1866 - 1946)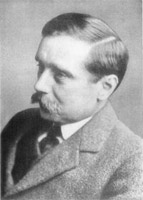 Herbert George Wells was born on 21st September 1866 at Atlas House in Bromley, Kent, to a lower-middle class family. An inheritance had allowed the family to purchase a china shop, but they soon realised that it was not to be prosperous - the stock was old and worn-out, and the shop was in a poor location.
In 1874, when he was seven years old, Wells had an accident which left him bedridden and with a broken leg. It was then that he beagn to read, and became devoted to the other worlds and lives to which books gave him access; they also stimulated his desire to write. When his father fractured his thigh in 1877, it was claear that his career as a cricketer was over. Unable to support themselves financially, the family sought to place their boys as apprentices to various professions.
However, Wells not only failed at being a draper - he failed as a chemist's assistant and had bad experiences as a teaching assistant. In late 1883, he won a scholarship to the Normal School of Science in London, studying biology, with an allowance of 21 shillings a week. He studied here until 1887, when he lost the scholarship due to his lack of interest in geology.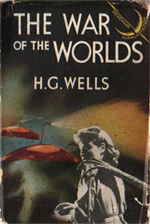 After the loss of his scholarship, he was left without a source of income. His aunt Mary, a cousin of his father, invited him to stay with her for a while, so at least he did not face the problem of housing. During his stay with his aunt, he grew interested in her daughter, Isabel, whom he married in 1891. In 1894, he left his wife for one of his students, Amy Catherine Robbins, whom he married in 1895. They had two children. During his marriage to Amy, he had numerous liasons with other women. But despite knowing about some of these affairs, Amy stayed married to him until her death in 1927.
Wells's first bestseller was 'Anticipations' (1901). Anticipating what the world would be like in the year 2000, the book is interesting both for its hits (trains and cars resulting in the dispersion of population from cities to suburbs; moral restrictions declining as men and women seek greater sexual freedom; the defeat of German militarism, and the existence of a European Union) and its misses (he did not expect successful aircraft before 1950, and averred that "my imagination refuses to see any sort of submarine doing anything but suffocate its crew and founder at sea").
His early novels, called "scientific romances", invented a number of themes now classic in science fiction in such works as The Time Machine, The Invisible Man, The War of the Worlds and The First Men in the Moon (which have all been made into films). He also wrote other, non-fantastic novels which have received critical acclaim, including Kipps and the satire on Edwardian advertising, Tono-Bungay.
Wells died on 13 August, 1946, at his home at 13 Hanover Terrace, Regent's Park, London, which now bears his comemorative blue plaque.
Finding the Birth Record of H.G. Wells using BMDindex.co.uk
To being my search, I logged into TheGenealogist and chose to search the BMD Indexes. After choosing the 1837 - 1983 image search, I was presented with search options. Typing in 'Wells' in the surname box, and 'Herbert George' in the forename box, I

selected the year as 1866 and clicked the search button.
To begin with, I looked at the records for July-September. I couldn't find him on these records - perhaps because his birth was so late in September, it was not registered until the start of October? Looking at the records for October-December, I found that there was a 'Wells, Herbert G' listed as being born in Bromley (see above image).